Php live Integration Services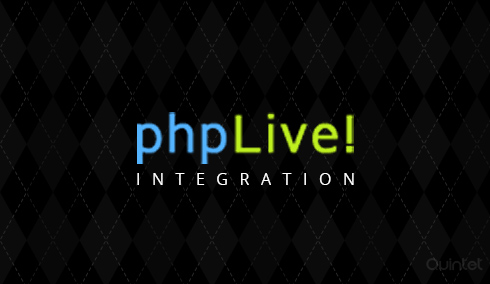 PHP Live! enables live chat communication with your website visitors, 100% web browser based. Simply launch a web browser and communicate via live chat support. PhpLive is PHP-MySQL powered! PhpLive enables Real-time chat for customer support through which, help can be rendered to customer anywhere in the world efficiently by your support operators. The feature set isn't huge, but it has everything enough (customer/provider) to manage most types of customer service scenarios.Once enabled, visitors will see a button that connects them directly with one of the operators.
Phplive chat support service is sleek, combining necessary information into one or two windows. Operators are able to see info about visitor that comes to the website. The info includes,the IP address, the duration the visitor has been on your site, the browser details, the current page they are on, the refering page etc. It is also possible for operators to initiate chat with visitors by typing their own message or using a canned message and adding a department.
PHP Live is live support software powered by PHP and MySQL and that makes it compatible with all operating systems and browsers. They can pro-actively initiate a chat to any visitor or just sit back and answer calls as they come in. Automatic invitations can be issued based on specific norms, such as when a visitor has spent over specified amount of time on the site which is useful to make sure we don't miss out any good business.
PhpLive chat Features which we at Quintet Can integrate for you.
Web Based Live Chat
Simply launch a web browser on any system to start giving live chat help.
Embed or popup chat window
Embed the chat window into your webpage or pop out the chat window when the chat icon is clicked.
Transferring chat capability
Transfer the chat and connect the visitor to another operator that can further assist with certain inquiries. Sometimes we need senior people to involve in trying to solve the problem.
Party "is typing" indicator
Each party (visitor and operator) is notified when the other is typing a message. This way we can see if the user is active.
Operator to operator chat
Operators can request chats with one another to relay messages internally. This enables faster solving of issues.
Canned responses
Faster than typing, create canned responses for quick answers to frequently asked questions. Pre-set answers that are constantly asked by customers so that you can simply select the answer instead of typing the whole thing.
Chat request routing
Evenly distribute chat requests with round robin or defined order , so that the user won't have to wait for long if he or she is in Que
Simultaneous chat request routing
All operators receive the chat request at the same time. And they can select based on any order which is set by them.
Maximum concurrent chat limit
Set the maximum concurrent chat limit for each operator.
Chat request loop
Loop the chat request to online operators more than once.
Operator initiated chat
Display a chat invitation image to the visitor and lend assistance, proactively. This shows that you genuinely care and this is also a golden opportunity to get hold of the visitor very fast so that you can guide him.
Automatic chat invitation popular
Automatically invite visitors to chat based on certain criterias.
View active chats
As a setup admin, view active chat session transcripts in real-time. This is very useful.