Hire offshore MySQL Database Administrators and Expert Programmers in India at Quintet Solutions
Quintet Solutions offers offshore domain experts in Programming and MySQL Database Administration. The services we offer are supported by an efficient team of engineers 24/7. Every dynamic website will have a database in it's core. Being the most popular open source Relational Database Management System (RDBMS ), MySQL is used to drive most of these dynamic websites. The beauty of MySQL is its open source nature and its excellent community support. A properly tuned MySQL database server is very stable and can perform absolutely well under heavy workloads. MySQL has become the first choice of most of the programmers because of its high availability and scalability.
Reliable MySQL Development Services / Expert MySQL Administration Services from Quintet, India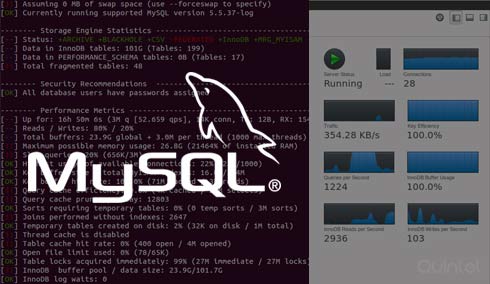 Our expert programmers and MySQL DBAs work closely to pick the best, cost effective and scalable architecture during the design phase of the project. Our seasoned DBAs apply techniques like replication, clustering and partitioning in order to maintain the high performance characteristics. We can do everything just right, from the very beginning of any web application development. But what if you have already built a good application, but the MySQL server is underperforming? We still can help you. Our data experts will first make sure the queries are optimized efficiently and the indexing of tables are done properly. Once the queries are optimized, we will use our expertise and specific tools to fine tune your database server with proper value for each of the MySQL server variables to give the best performance depending on your workload. Our DBAs monitor 24X7 to identify bottlenecks and resolve them. They also ensure the data security and act proactively to avoid database failure. We are good at timing the backup process without hurting the performance of the dedicated database server.
Different MySQL Professional Services that Quintet offers
MySQL Server Architecture Designing Services in India
While designing a database architecture, we consider all the elements in the system in order to find the best suitable architecture. We will identify the bottlenecks during the design phase of the system and choose the right solutions to handle exponential growth, huge dataset, caching and possible disaster management. We know exactly where to use techniques like replication, partitioning, clustering or sharding and features like stored routines, triggers or events without memory leaks. We design the architecture keeping high scalability and availability in mind. We can also redesign database architecture and migrate the data from old architecture to new design without data loss.
Reliable MySQL Installation and Upgradation Provider in India
We provide MySQL installation on any kind of Operating system and do basic configurations guaranteeing a better performance than the default installations if our customers are not aware about the technical requirements. We also compile custom installations as per the customer requirement. With our vast experience with every versions of MySQL, we can easily upgrade to minor or major versions without causing any troubles with the dataset or user privileges. When our customers need to migrate their databases to a new dedicated hosting server or to a managed database service like AWS EC2 or RDS (Amazon Web Services), we prepare backup and restoration plans and choose the best among them. In some cases where the dataset is small we can use mysqldump to backup the data and restore. But if we are expecting a huge dataset to migrate, simple solutions like mysqldump can not help you in achieving your goal with minimum or no downtime. You will need some professional advice on the most advanced techniques to be used and you can always approach us without hesitation.
Reliable MySQL Server performance optimization Provider in India
MySQL comes with some default configurations to ensure that it can handle all the load spikes. But it doesn't mean that the default configurations are suitable for your businesses which may deal with large amount of data and immense number of queries. This is why there are several variables in mysql which are to be configured depending on several factors including client connection settings. Only an experienced professional can foresee the exact bottlenecks and apply correct configuration values to these variables. We use most advanced debugging tools to identify the configuration bottlenecks and our vast experience make sure that you get 100% of your Database server.
MySQL Query Optimization Services in India
Every programmer knows basic SQL and can write queries to fetch proper result sets from the database. But sometimes these queries may not be efficient for the agility of the application. Here our experts analyse the slow query log to find the solution. Sometimes your tables may be properly indexed, but still underperforming. Sometimes you may need to switch a dynamic server variable before you query your tables. Our experienced data engineers can optimize these queries and properly index the tables if necessary.
Remote Database Backup and recovery Solutions in India
If you are running a database without a backup and recovery plans, you are probably ruining your own business. But even if you are taking proper backups of your MySQL database, are you making sure that your backup procedure isn't causing any performance degradation to your application. If so, we can help you to plan and implement proper backup procedure and prepare for restoration in the case of a disaster.
MySQL master – master replication Services in India
Master-Master replication is a complicated technique basically used for load balancing database servers. Though there are many methods used to implement this, there are many aspects of configurations to handle. Also there are many errors to handle. Only a professional DBA can do this without causing any hiccups. We can ensure that the master-master replication happens seamlessly.
MySQL master-slave replication Solutions in India
MySQL master-slave replication is a multipurpose technique used for load balancing, backup or server migration. We can configure multiple slaves to a single master and for proper load balancing, we need to tune the application code prioritize reads from slave and master depending on the nature of the data. We have been effectively using multiple slave configurations to handle huge read workload in various projects. You can also take the advantage of our expertize in this area.
MySQL Database repairing Services in India
MySQL could behave abnormally if either a hardware or memory crash occurs in a process. After restart from such a crash, you may not be able to repair the table without the help of an expert. Here we can help you with repair, reindexing and fixing corrupted database engine specific files.
MySQL Security management and maintenance Services in India
MySQL works maintain access privileges for each of the user. There are many user roles that can be defined and if you fail to properly assign user privileges, you may end up with stolen data. Once your database is compromised, you are in the threat of losing your credibility and hence the business. But you can always control the access and user privileges needed for each user. So a frequent and proper security audit can prevent this type of threat. Also MySQL frequently releases minor versions with patches and fixes for each of the bugs reported in the bug tracking system. You need to make sure that your server has all those recent updates. Only properly scheduled maintenance can ensure that the server is update to the latest version. We can do that for you with pleasure.
24×7 Database monitoring and support Services in India
We have a dedicated DBA team to monitor all hardware and memory related issues 24×7. Prompt action is guaranteed if any issue is noticed. More that that, they will always be available to reach out and answer all your questions. If you have any specific need at your midnight or when nobody is around you, no worries, we are here to help you.
Remote MySQL DBA Services from India
Quintet can provide you reliable and cost effective remote DBA support if you are tied up with your business needs and lack time to take care of your database administration tasks. We will monitor, audit and patch the server for you and send you a detailed report on every event.