Twilio Integration Service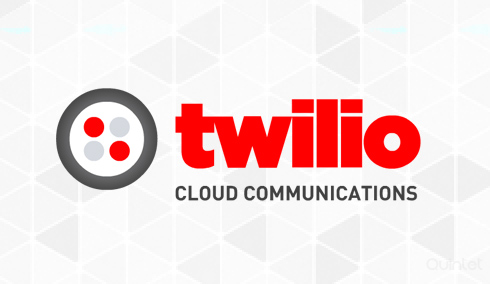 Allowing your business telephone wings to fly along with Cloud Communications system is an effective practice which is capable of unlocking the path to a successful expansion. It not only helps to elevate the quality and mobility of your business, but also makes many collaborative business tasks to work smoother. Being an Infrastructure-as-a-Service (IaaS) company, Twilio makes these bunch of benefits easier for you.Twilio helps to merge capabilities like phone, messaging and VoIP to Web applications as well as Mobile softwares. It is flexible enough to create simple or advanced Voice and Messaging applications, without having to invest for some other expensive ready made telephony softwares. Some highlighting features of Twilio include
Twilio offers a powerful API, so that programmers can integrate the desired communication methods to your application. Subsequently, Twilio will handle your telephony services by merely hiding all the complexities behind this REST(Representational state transfer) API.
Twilio uses a simple and user friendly markup language 'TwiML' for communication between your application and API.
Services are accessed over HTTP. Unlike a contract basis, twilio bills service according to usage.
Supports widely used languages like Spanish, French, Arabic, Chinese and more…
Customers will get toll free and local phone number which can be used to stay connected throughout several countries around the globe.
Twilio has data centers world wide. Moreover, there is an active and supportive community.
Unlike any other vendors, Twilio's Voice and Text API are widely used and spread across a number of countries along with plenty of developers. If you are interested to bring Twilio communication features in your application, developers here at Quintet Solutions are more than ready to be at your service.
Twilio Integration Services by Quintet
Twilio API can be used for enabling features to make and receive phone calls, messages and even complex tasks like text-to-speech, queuing, conference calling etc. In order to enjoy these features, the back-end programming/development and integration work is to be done in an accurate and reliable manner. Quintet Solutions have a passionate and talented group of developers who are well experienced in working with Twilio and related technologies. They have proven their skills on various scripting languages including PHP, Perl, ColdFusion, Ruby on Rails and more.
Our developers, who follows Agile methodology, can analyse your business communication requirements and deliver reliable and bug-free twilio empowered solutions in the right corners of your application. Or if you require a custom communication workflow for your application, we can help you in breaking down the complexities and implementing the solution. We aim to provide technical solutions that will cover all of your business requirements in a cost effective way within the given time limit and are successful in achieving the same.
How Twilio integration will be beneficial for your Company
While mobile devices and users show an exponential growth, it is more likely that you may have come across any of the following or similar business requirements which is influenced by telephony.
Notification System
Consumer Polls.
Feedback System.
Activation/Deactivation of a service.
Emergency Call.
Sometimes you may need their combinations or other custom services specific to your website. Our Twilio API experts can handle these scenarios and help you with development and integration. After carefully analysing the requirements, custom services are created and placed in a Twilio simulator/development environment. They are then subjected to a series of testing process, and at the same time optimizations are applied in accordance with client feedbacks. After completion they are integrated to the live environment where your application resides. We have been successful in configuring Twilio web services in a number of websites by effectively making use of the API.
IVR (Interactive Voice Response)
Implementing an IVR system is a better way to save time and money. We offer you the development of feature rich IVR system, powered by Twilio, as per your business workflow or custom requirements.
Conference Call System
Conference call system allows people in different geographical regions to communicate at a pre established time frame, and is very much helpful in discussing and resolving urgent or private matters. With Twilio API, Quintet Solutions offers the development of efficient conference call system for your business needs.
Support and Maintenance
We offer you 24/7 support and maintenance, so that you can contact us anytime for resolving your application related issues. We can also help you in bringing modifications to your application without affecting the workflow of your live system.