Linux Support Services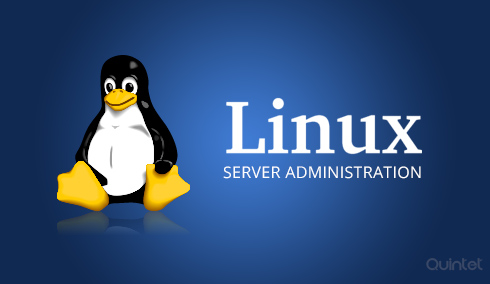 Linux is one of the most popular, free, open source operating systems. Linux permits users to use, change and modify the source code to suit their unique requirements. Linux is a Unix-like operating system and there are different flavours of Linux available, that can serve your requirements as well as business needs. It offers the most secure operating environment and can be tuned to suit any demanding situation.
Advanced flexibility and wide range of options to configure, compared to other operating system, makes Linux more popular. Linux operating systems have very low susceptibility to virus and malware infestation. Linux is almost always a free operating system with multiple sources distribution. Choosing Linux OS over expensive ones for your daily requirements, will be cost effective along having a super fast operating system.
Linux Support Services at Quintet
Quintet solutions offers all kinds of support for Linux from scripting to server side support, and we have customers availing our service around the globe. Our team of Engineers work around the clock and keep your Linux boxes, whether it be shared, dedicated or VPS, running error free, secured and optimized. We can also help you with any third party installations, configurations, control panel setup, services installation, upgradations at any time of the day. Our experts can setup software firewalls and monitoring tools for your Linux servers and also help automate backup processes by creating custom shell scripts.
Proxy cache Servers installations/configurations
We help you to configure proxy servers which allows you to conserve the bandwidth using caching contents. By using Cache Proxy organizations can save the bandwidth since the data is cached and served locally thus helps faster downloads and this allows access based user criterias on allowed/disallowed to end-users with the aid of IP/Mac address users etc.
Linux mail servers
We provide mail server installations and configurations to provide solutions for corporates and individuals. We also provide spam filtering tools and assure that the mail server are up throughout to enable growth of the business.
Linux Firewall Server
Our security experts can assist you with wide range of Linux firewalls varying from IPTABLES to pfsense. This ensures that our clients are secured with cost effective and efficient security tools
SVN servers
We can provide you with SVN servers which helps you to keep your codes and file changes updated with the historical details of modifications ensuring all the changes are noted for future uses in a cost effective way.
Linux Tech Support
Installation and Configuration
Integration of Ubuntu Linux into your Active Directory
Software and Hardware Fault Diagnosis
Ubuntu Virtualization based on Xen or KVM
24 x 7 Monitoring of your servers
Installation and configuration of 3rd party applications
Security, monitoring and server audit