Linkedin Api Integration Services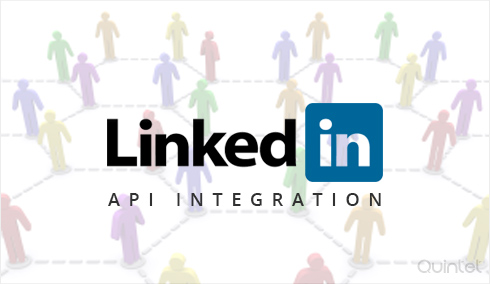 LinkedIn is the social networking site for professional networking, and its still considered as the de facto standard when it comes to getting reliable business leads or developing professional contacts. This social platform provides valuable information about businesses, employees, jobs and future prospects. In today's world getting reliable business leads for fostering business relationships is one of the key factor in a firm's growth and with LinkedIn you can be sure of getting quality sales leads.
Linkedin API integration at Quintet
Quintet offers offshore professionals who are experienced in LinkedIn API integration for both existing and upcoming websites. And helps users to be a part of the world's largest professional networking site.
LinkedIn API Services
Login / Signup
It is possible to replace user's application registration and sign in, by LinkedIn sign in. It simplifies the process of sign in and remembering an additional pair of login data. Quintet offers best authorization techniques with the sign in integration.
Share and Social Stream
LinkedIn provides high quality distribution api methods for sharing your application content into the LinkedIn network. Share through LinkedIn offers high distribution of your content across network of professionals including their pages and groups, and your application contents become popular through the network.
Communication
LinkedIn provides an api method for sending messages or linkedIn invitation to linkedIn users. We offer highly secured messaging implementations with linkedIn to your website. Fast and efficient messaging without any interruption is possible with the Integration of the messaging API
Company details
Quintet offers well arranged company details and their employee's details with the implementation of LinkedIn api. Our api experts organize company profile details for individual or multiple companies based on user interests. This is can result innovative business ideas.
Job details
LinkedIn delivers details about job posting with their simple api call. We offer easy methods for job searching and shows best opportunities of professional world through this api. This feature is very useful when it comes to hiring.
Group details
LinkedIn provides detailed group interaction with the group api to authorized group members. Group api gives group profile details, group post details and suggested groups to users. It is an easy method to connect members with same business ideas. Flow of application content through a group is more powerful than through a user profile and it will help you do marketing better.
LinkedIn plugins
LinkedIn supports the following plugins with their api.
Share button
Helps to share users website content and manage traffic back to the website. Also shows total no of shares with the button.
Follow company button
Quintet offers LinkedIn's follow company button integration to your website. Follow button adds followers to your site with a single click. And it helps quick growth of your company profile through your website visitors and their friends. Isn't that simply great? Such a feature can do wonders to your website in terms of business opportunities and making new clients.
Member profile
LinkedIn api provides member profile integration with user's website. And it helps your visitors to find common professional connections and to easily connect with you.
Sign in with LinkedIn
User registers to the site using linkedIn identity. Fast and easy methods of integration to user websites is now possible using the Sign in feature which can be integrated to your website.
Company Insider
Provides details about employees, job opportunities and job changes based on a company. The Follow button integration is also provided through this plugin. It helps visitors to identify the employee, who is working in a particular company and even keeping updated about the company.
Company Profile
Gives company details including company profile summary, logo and employees count. The follow button can be added to the company profile. It is the easiest method of marketing your company through the linkedIn network.
Job list
Provides personalised job listing to users based on their interests. Here it includes best job openings and company based job opportunities. Now the job seekers can see the jobs posted by your company and can apply
Alumni Tool
Shows details for alumni based and makes it possible to track their current working details including location, industry, specialization, etc.
All this data can be very useful for your business and we are here to help you to integrate linkedin into your site.