Authorize.Net integration services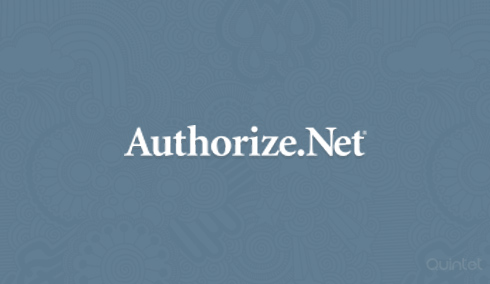 Payment processing plays an important role in every ecommerce business solution and there are several things to be taken care of while integrating a payment processing gateway with a website directly. Authorize.Net simplifies this process by providing a secure, reliable and fast payment gateway service and makes integration to websites easier by hiding the complex backend processes. Integrating Authorize.Net with a website not only enables the merchant to collect payments from customers through credit card or echeck processing but also securely manages customer transactions, handling account settings, viewing statements getting periodic reports and much more.
Authorize.Net integration services at Quintet
Web and mobile payment solutions
Authorize.net is one of the most widely used payment solutions. At Quintet we have gained vast experience in the past years in payment gateway integration. Authorize.net supports secure credit card payments through websites and mobile devices using the Authorize.Net mobile app. We also provide features that can help you manage and review your transactions, account settings handling, report downloading, etc.
Flexible Recurring payment Solutions
Authorize.Net provides an Automated Reccuring Billing (ARB) tool to handle reccuring or subscription based transactions. ARB provides customization of trial periods and pricing. It also supports email notifications of subscriptions and upcoming credit cards. Quintet offers the integration of these payment solution as one of the best solution for cost effective billing.
Receive payment in different currencies
Authorize.net supports international payment transactions via Cybersource. Cybersource is an electronic payment management system and the integration of Cybersource to Authorize.net makes global transaction handling much easier. We can help you with Cybersource.
Advanced Fraud Detection
Authorize.net provides advanced fraud detection methods using a set of customizable filters and tools. Here these filters and tools work together for providing tight security to users. Additionally Authorize.net supports Daily Velocity Filter. It helps users to specify number of transaction allowed per day and helps to reduce rate of fraud attacks. Quintet helps you fight fraud and theft using Authorize.net.
Customer Data Management
Customer data is managed through Customer Information Manager (CIM). Authorize.net connects with the CIM for sensitive data transfer. CIM server handles the data securely. These integration helps customers to directly enter data onto the Authorize.net hosted pages. Quintet offers best methods of integration of CIM to your application.
E-check processing
Authorize.net offers electronic check payment method. E-check processing is one of the best cost effective and less time consuming method of transaction. The integration of E-check to your website helps to increase the sales by including an additional payment option. Quintet offers setting up secure E-check handling with Authorize.net.
Transaction Handling
Authorize.net supports a wide range of transaction handling including refund transaction and void transaction. Here the void transaction handling helps to void single or multiple unsettled transaction from further settlement. Refund transaction refunds the returned products price to customer. Authorize.net support full refunds and partial refunds. In partial refund, refunds selected amount to customer through the shopping cart. It is a useful method for website owner, he can easily return product price without any processing charge of the product.
Apple Pay Authorize.Net Integration
While introducing new iPhone 6 and iPhone 6 Plus Apple also unveiled a new technology 'Apple Pay' which is a secure, simple and fast method to accept and process in-app payments from customers. Apple Pay obliterates the need of credit card information during checkout with the digital 'token' feature, simplifying user experience. Authorize.Net supports merchants, to accept in-app payments through Apple Pay using their gateway account. We can be at your service by supporting and developing services for Apple Pay integration via Authorize.Net. Our developers and gateway integration specialists will work on any of SDK method and API method that Authorize.net provide for Apple Pay integration by checking which suites best for the application. We also provide support in any stage starting from Signing Up for Apple Pay Service, Obtaining an Apple merchant ID, Generating Certificate Signing Request (CSR), Submitting CSR file to Apple and Identifying Apple Pay transaction from Merchant Interface etc. to start using Apple Pay via Authorize.Net.