Web Hosting Support Services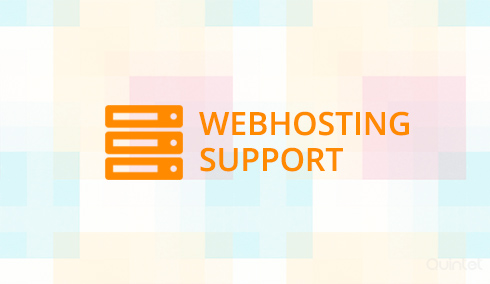 Happy customers are the backbone of a web hosting business and the quality of support given to them matters a lot, for the success of the business. Here at Quintet, we have a team of server Engineers, which works around the clock, providing web hosting support across the globe. We make sure our team acts as a friendly companion to your customer helping them and guiding them to get the best out of the services you offer. By hiring our services you avoid all the trouble of hiring, training, maintaining, providing infrastructure, coordinating shifts, giving statutory benefits, etc for a team at your premise. Our Engineers hold OS level and network level certifications which makes them capable of troubleshooting almost every issues faced in a web hosting environment.
Web Hosting Support Services at Quintet
By rendering web hosting support we do not limit ourselves to fixing server side issues. We have expert coders in our development team who will be assigned for fixing programming related errors there by helping your clients run their businesses smoothly. Our services include remote server management, backup storage solutions, server hardening, server migration solutions, data centre solutions, third party application installation and technical support.
We offer qualitative 24x7x365 server management and support with a guarantee of 99.9% uptime.
Backup Solutions
Be it shared or dedicated server, we help you setup and configure the backup for data. For a control panel driven server, we can set up backup using the already available options within the control panel as well as we can create custom scripts for unique requirements. We have experience in setting up remote backups using custom scripts. Along with custom backup scripts, we do offer settings up R1Soft and Amazon backup and recovery services.
Server Migrations
Migration services become very important when you have acquired customers who are already using hosting service elsewhere, or in a situation when you want to migrate to a new data center. This is a task which needs close attention and technical expertise in order to avoid and hindrance to the service. We have experienced Engineers who can do seamless migrations, to servers using different OS versions as well as control panels. Any post migration issues will be troubleshot by a team of server Engineers and developers.
Server Hardening
The intention of server hardening is to close security holes, remove any sniffers, irc, bnc, eggdrop, rootkits, trojans etc. Our Engineers can install and configure software firewalls like CSF, APF etc as a part of securing the system. Each services can be tweaked to have security tightened from the basic level itself. The server will be scanned with advanced tools to remove any threats possible. Network penetration scanning is done from a different network to ensure that the server is secure. Our experts make your server PCI and ACID compliant for 100% reliability.
Software Installations and module installations
People always depend on 3rd party free or paid solutions for meeting business requirements. We at Quintet can help you install any third party application and configure it as per needed. We can also help you install additional modules to currently running services for enhancing features as well as security.
Server Monitoring
Monitoring of services plays a critical role in organizations to track and resolve IT infrastructure related problems before they run into critical issues. We use advanced monitoring tools to patrol the server 24*7 by our team which is available around the clock. We can even set up monitoring tools like Nagios, Cacti etc for your disposal.
Server security updates and patches
Keeping the server secure is not a one time process. Keeping the server healthy with latest patches and security updates is even more important to prevent vulnerabilities and this is an ongoing process for ever. We can have your server audited and reports generated which will certainly help you keep away from worries.
Server Management Services at a Glance
24×7 Support Coverage
Helpdesk Support team is always at your service
You have an option of Unlimited tickets
24/7 Proactive Server Monitoring
Domain Name Registration
Initial Server Hardening
All Unix/Windows Platforms Supported
Hacked Server Analysis & Recovery
Regular Periodic Security Audits
Kernel and Software Updates
Account restoration and migration
A to Z Server Management and Support
Server restoration upon hardware failure
Round the clock 24/7/365 Admin and Support staff Availability
Certified Technicians just a call away.