Twitter Api Integration Services in India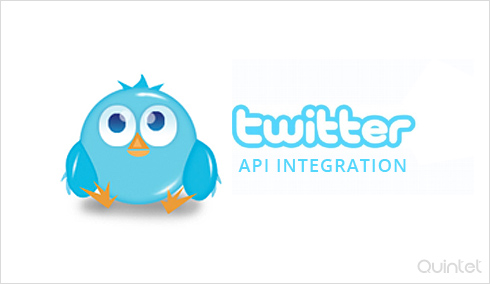 Twitter gives all its features to twitter developers through their api. Twitter opens detailed documentation regarding api methods and authorization techniques so the developers consider it as their first choice of social media selection. No matter who you are or what you do, the advantages to integrating Twitter into your website is always advantageous Twitter website integration is an absolute must for the following reasons:
1. Convert your target audience as your followers.
The greatest advantage in integrating Twitter into your website is that, by actively promoting your Twitter account through the means of displaying your latest tweets on your website, you provide an opportunity for your website visitors to know that you are an active company. You will notice that the people who follow you on twitter are the ones who are interested in your website's product or service. You will have your correct target audience follow you. Once they follow you, they will visit your website too. It is proven that there is a relation between twitter followers and the number of hits on your website, which will in turn generate your business.
2. Show the followers that you're up-to date
By appearing current and modern, people will almost always assume that you are still up to date with the data in your website and that you are still active. This is a very good thing for your business. Your Company will always be in the picture. By communicating that you're current, people will be more interested in what you have to say, what you do, and what you think. By using Twitter you can prove that you run a live, up to date and modern business.
3. Twitter increases your Legitimacy
A simple but true and valid reason is that twitter increases your professional legitimacy. When you visit a website for the first time, and you want to check the legitimacy, one of the factors you will be relying on is to see if the company has a twitter account. This shows that the site is credible. And also once people see the latest tweets your audience will know that your company is for real and the work you do is legitimate and that you can be trusted with work or a purchase of a product.
4.Increased Transparency
By sharing your latest photos and updates your telling your audience that you are transparent and they can feel free to interact with you and trust you. Trust is very important in a business, being more transparent by using twitter says that you can be trusted.
5. Easily Network and communicate with your Website Followers and Clients
Networking is very important these days and by using twitter you can get in touch instantly with your clients and website followers. When you include your twitter profile in your website showing your latest tweets, you make it easy for the followers , prospects or clients to connect with you .
Twitter API integration service at Quintet
At Quintet our api experts provides the most efficient code to users. We offer up to date and fast service on any type of api change. We can correctly and attractively align your twitter buttons and use the minimum number of api calls thereby enabling us to concentrate on high performance optimization throughout our sites.
Twitter timeline integration
We come up with efficient integration of twitter timeline to your websites. Our timelines also aligned with the tweet box and follow us button. The follow us button helps user to follow your website with a single click and tweet box provides sudden interaction with twitter account.
Tweet button integration
The Tweet button helps users to share data with twitter followers. We deliver all type of twitter add-on buttons based on the users requirement. The 'Follow, tweet sharing and hash tag' buttons are the most commonly used. Quintet is ready for any customization to the tweet button and share box window properties for the users.
Follow button Integration
We allow users to follow the twitter page directly from the website's interface itself by including twitter's follow button. Using the correct configuration techniques we offer the best possible twitter integration.
Embedded tweets integration
Selective and systematic display of tweets to websites. Single or multiple tweet selection with certain criterias. We are ready to show the relative contents like retweets and favorites count as part of the tweet display.
Twitter cards
Twitter card helps to attach photos and videos with your tweets. We can offer properly aligned twitter cards to our users.
Twitter api services
Twitter sign in
Quintet provides users with the twitter sign in option , the user can sign into the account with just two button clicks. We also give importance for handling the user credentials by applying selective authorization techniques.
Messaging
Using twitter authorization techniques we can handle messages and other related responses and message transfers between two users by using twitter's api.
Tweets
Twitter returns tweets or retweets through their api service. The api helps in updating and destroying of tweets. Proper and selective tweet selection based on certain search criterias is also possible using twitter's api.
Timelines
Timelines containing a group of tweets. Twitter api returns timelines related to different categories including user's tweets, user's and followers tweets, etc.
Friends and Followers
Twitter api provides methods for identifying friends and followers. It also delivers friends and followers relative activities like unfollow, enabling or disabling retweet notifications, etc.