Adobe EchoSign Integration Services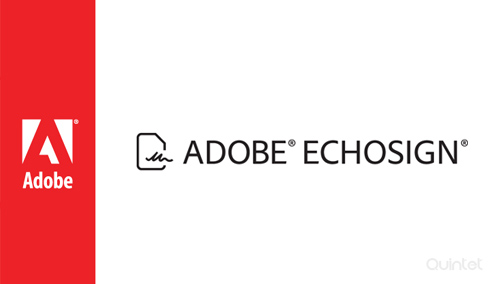 Adobe EchoSign is a fully automated, cloud-based electronic signature solution which speeds up the document signing process with e-signatures, tracks contract status in real time, stores all signed agreements in secure online repository and delivers an exceptional user experience. It provides a powerful platform to eliminate tedious paperwork, close business deals faster, and streamline business processes. Along with the most up-to-date technologies, Adobe EchoSign adheres to the latest best-practice policies for online security. Organizations of all sizes rely on it to accelerate critical business processes in Sales, HR, Legal, and Operations.
How your company can benefit from using Adobe EchoSign
Simple to use
Adobe EchoSign is the easiest e-signature solution . Sending and getting documents signed online is as easy as sending an email – no special software to download or install. It's simple to send digital documents out for signature with a single click, and recipients can e-sign agreements on any smartphone, tablet, or browser.
Legal and secure
Adobe EchoSign is fully compliant with the ESIGN Act of 2000 and the Uniform Electronic Transaction Act (UETA) with EchoSign. With Adobe EchoSign you can conduct business-critical transactions with confidence. Documents are stored in an online repository, that's more secure and simple to search, and uses passwords and permissions to control document access. All communications, passwords, and documents in EchoSign system are encrypted.
Works with your tools
Documents processed through Adobe EchoSign can be signed anywhere. Adobe EchoSign is accessible from any computer, smartphone, or tablet.
Adobe EchoSign Integration Services at Quintet
Quintet has expert developers who are able to work with Adobe EchoSign as a provider of electronic signature solutions. Quintet make the processes of sending, signing, tracking, and storing business documents faster than you ever thought possible.
Send, track, and sign on the go
Adobe's solutions will help provide a platform to send and legally e-sign quickly prepared estimates, contracts, agreements, and other documents on your smart phone, tablet, or any web browser. Sending a document to be e-signed is as easy as sending an email. With EchoSign, we help you to go from send to signed in a matter of minutes.
Get enterprise-strength security
With the help of EchoSign, our developers ensure that your documents are stored in secure Adobe cloud platform and you can conduct business-critical transactions with confidence. It also provides control access using passwords and permissions. A certified PDF of the executed contract can be send as required. Adobe EchoSign Digital Certificates assure recipients that a document has been issued by EchoSign and has not been altered.
Keep audit trails automatically
Quintet provides you real-time visibility into the status of your document with EchoSign, you can precisely know when it's opened, signed, and returned. EchoSign automatically records and stores the details of each document's history, so you can view and record every step.
Collect legally binding signatures
We help you to cross borders. Electronic signatures collected with EchoSign are legally valid and enforceable in countries around the world and it's simple to specify the order of multiple people to e-sign a single document.