Zabbix Monitoring Services
ZABBIX is a software that monitors numerous parameters of a network including the health and integrity of servers. ZABBIX uses a variable report mechanism that allows users to configure mail alerts for virtually any event. This helps to rectify server related issues without much delay. ZABBIX offers excellent reporting and data visualisation features based on the stored data. This makes it ideal for infrastructure planning and scaling.
Zabbix Monitoring Services at Quintet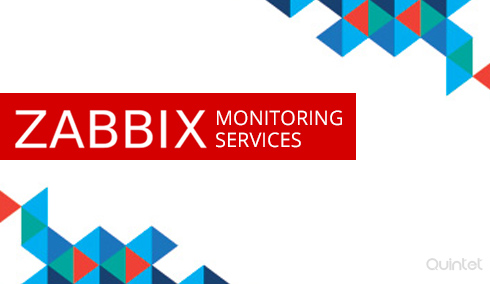 We offer Zabbix as an open source monitoring solution for enterprise networks and applications. It uses MySQL, PostgreSQL, SQLite, Oracle to store data. All reports and data, figures as well as configuration parameters are accessed through an admin portal. This admin portal ensures that the status of your network and the health of your servers can be assessed from any location. Properly configured, monitoring system is important in IT infrastructure. This applies for small organisations as well as large companies with a multitude of servers.
Zabbix has capability to scan your network and automatically add all the hosts in central server. So you can tweak and setup the perfect monitoring configuration to suit your needs. Along with helping to review reports and visualizing the data collected it also collects the data from the network and integrate with other systems in your environment.
Many of the features are listed below:
We can monitor thousands of devices using ZABBIX
ZABBIX automatically discovers servers and network devices
Low-level discovery
Provides shared monitoring with centralized control centre
Native high performance agents (Includes Linux, Solaris, HP-UX, AIX, FreeBSD, OpenBSD, OS X, Tru64/OSF1, Windows 2000, Windows Server 2003, Legacy windows servers and newer windows versions.
Zabbix is an Agent-less monitoring System , You can check availability and responsiveness of standard services such as email or web servers.
JMX monitoring
Web monitoring is possible making sure everything is going smoothly.
Secure user authentication
Flexible user permissions
Web-based interface
SLA, and ITIL KPI metrics on reporting
It sends out e-mail notification on predefined events
High-level (business) view of monitored resources through user-defined visual console screens and dashboards
Audit log is available forever.
Quintet Recommends Zabbix for the following reasons :
Zabbix offers the freedom of using an open-source solution with no vendor lock-in and freely accessible source code.
Zabbix's required components like Linux, Apache, MySQL/PostgreSQL, PHP are also easy to use and their cost of ownership is low.
Zabbix agents for UNIX and Windows based platforms provide wider monitoring capabilities with great speed
The centralized monitoring system can store data with great speed and retrieve and reuse them and its great visualization capabilities allow to work with your data faster and smarter .